Art Today Gone Tomorrow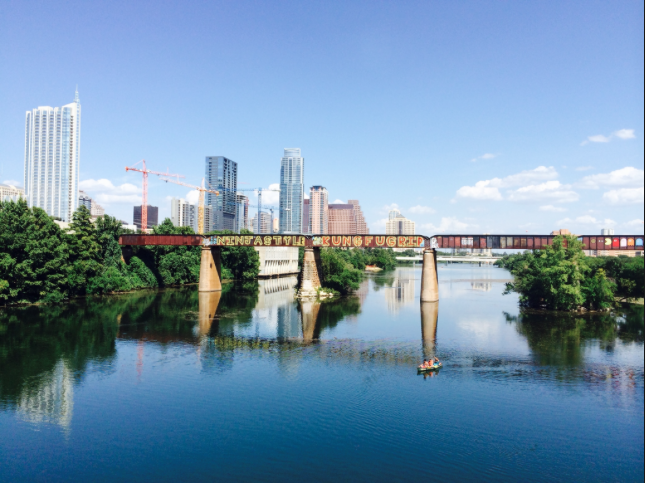 Austin, TX, lands on many lists, including top cities attracting millennial creative types like musicians and artists. The city's population of millennials provides insight into the artistic and expressive values of a generation. Considered as the new boomers, millennials are influencing new trends that are just beginning to generate ripples. This puts the Texas capital in the running for yet another list: cultural bellwether cities.
As a hungry and alcohol-thirsty city, Austin influences the brand popularity of chefs, food, craft cocktails, and microbrews. It also is influencing a curious appreciation for organic outdoor art. Outdoor creative graphics now serve as iconic representations of Austin's culture.
As a result, the live music capital of the world is slowly shaping its own expression as an urban canvas. Today, Austin hosts a variety of public displays some support as art. Others would argue that such displays are defacements and vandalism.
So a growing challenge to the city — and others that follow its trendsetting — is figuring out what creative expressions to accept and applaud and what to erase and replace. It may be that Austin's 30-year-olds, and average-aged residents, are going through a phase where they prefer loosening the reins on the definition of art.
A phase can quickly become a trend. Shaping the phase locally was Jo's Coffee. A graphic display of love and reconciliation on its exterior wall became an artistic representation of a retail brand. It quickly grew to represent the attitude of a zip code. Now, it represents a city's artistic flair.
On a larger more prominent scale, artistic flair is gradually covering the rustic metal siding of the railway bridge that traverses Lady Bird Lake in the heart of the city. A photo of the skyline without the painted bridge eliminates an iconic piece of the visual expression of downtown. Recently, the leader of a group of tourists biking across the James D. Pfluger pedestrian bridge proudly pointed out the painted words, "Ninja Style Kung Fu Grip," as if it was a must-see attraction in Austin. The group stopped for camera clicks worthy of Instagram, fueling awareness of our city and a perceived tolerance for creative freedom.
An industrial pipe company incorporates art into its public position east of Austin's downtown.
Tourists and new residents who want to connect themselves to the Austin culture also pose for photos in front of images like Daniel Johnston's mural Jeremiah the Innocent ("Hi, How Are You?"), or within the complex portrayal of expressive art found in Austin's Graffiti Park below Castle Hill, where today's art could be gone tomorrow because it gets painted over by something new.
East of the city's downtown business district, where the creative class is expanding its footprint, outdoor graphic art seems to take on an expressive tone that indicates the transition of a section of the city that was once the primary domain of gangs and violence but now more a neighborhood for cultural creatives. The east side provides a blended marriage of mural art and sophisticated tagging that integrates into the larger visual landscape, and which some would say visually portrays the rapid gentrification taking place in this corridor.
Cool graffiti art is a powerful branding expression to millennials. So what does a city do when faced with a dilemma of perhaps too much expressive freedom on too many public platforms? Railway bridges, cement pillars holding up Mopac overpasses and bridges over Lady Bird Lake, sides of buildings, metal fences, and metal dumpsters all are providing free access and great visibility for the artists that mostly come out at night.
It may be easier in some places for the city to erase some images with un-matching grey or beige paint, leaving only a boring blemish. However, along with our population, the probability is growing for any graffiti artist to capture a valuable piece of outdoor real estate with a creative expression the public will immediately love, but the city's policies may just as quickly erase.
If our boundaries on organic public expressions are clear, then we should be diligent in reinforcing them. If we are discovering that they are no longer relevant, then we should revise them appropriately.
Working it out requires a good understanding of all the perspectives. It also requires looking ahead, imagining how the trend of expressive outdoor art can play out, and then adopting and practicing the right policies that let us appreciate and leverage the trends we are setting.